our letterpress journal & resources
Posted by ashley mcneill on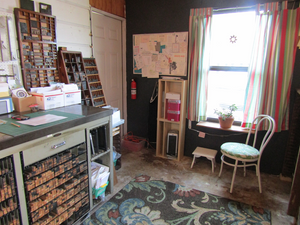 I've been planning this for a while and FINALLY got the papers tidied enough to welcome you, virtually, into my studio.The studio is in the converted carport of our house, and previous owners seemed to have used it as storage. One chainsawed-out section of a wall and one french door installation later, and inviting moved in. There are been slight improvements since then, of course, like colorful curtains (and thermals to help with the summer heat), some white paint, some near-black paint, a place to sit, a rug (it really ties the room together) and a little feng shui thanks...
Posted by ashley mcneill on
It's weird having a vacation planned while you're working on completing a project. My family reunion was scheduled for the end of June, which is crunch time for completing the Fall Collection. I got half of it done before leaving Texas, ran around Florida for a week, then came back and did the last half. Honestly, I'm still on the high from having completed it in time.  Sneak Peek!   Sneak Peek! It was inspired by the Artistic Printing / Gaslight design movements of the late 19th century and was such fun. You can see the images I pulled for...
---